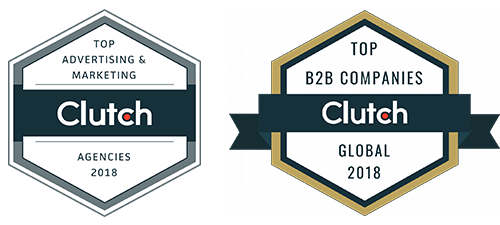 App marketing is essential in a market that is increasingly dominated by apps. Many personal services are shifting to mobile, including but not limited to advertising, banking, shopping, payment, etc. As of the third quarter of 2018, almost 2 million apps were available on the App store. Clutch alone features 10,000+ mobile app development companies. It's clear that this number will only continue to grow in 2019, and businesses need a reliable and trustworthy app marketing partner to ensure that their app acquires maximum visibility and is successful in a highly competitive marketplace.
Studio Mosaic is that very partner. We have 4+ years of experience and have launched 400+ apps all across the world. We cover all aspects of app store promotions, including: App Store Optimization (ASO), App Install Campaigns (PPI Advertising), Online PR & Social Media Marketing and Growth Hacking.
You don't just need to take our word for it. We've won a number of accolades from Clutch.co in the past, but we're excited to announce one of the most prestigious awards we've earned yet. Specifically, B2B market research firm, Clutch.co has recently named Studio Mosaic a 2018 Global Leader for our app marketing expertise! Of the 1,000+ app marketing companies featured on their platform, we've been identified at the 7th leading company worldwide!
Clutch's research methodology is comprehensive and considers many different factors. The most important are client reviews. Since joining Clutch, many of our clients have graciously given their time to provide their feedback. The insights, which include everything from our unique tactics to the measurable results driven, have helped us grow and improve at an incredible pace. We're fortunate to have comprehensive and verified reviews that genuinely demonstrate our team's ability. We couldn't have achieved this level of recognition without their support.
Please visit our profile to read the reviews in full. Our presence on Clutch's sister website, The Manifest, also delves more deeply into one of our many successful projects, and lists our clientele and awards.
On this significance of this achievement, our CEO, Akhil Chandra remarked:
"It feels great to be featured as a 2018 Clutch Global Leader, second time in a row this year. This recognition further validates our commitment towards service excellence, client-focus and business results. What makes this recognition even more valuable is the fact that it comes from Clutch, the go-to platform for businesses across the world to find potential, verified partners. I would like to thank the team at Clutch for recognizing our work and bestowing this honor upon Studio Mosaic again."
Overall, we view this recognition as a testament to our team's work ethic and skill. We're determined to be a go to marketing partner, particularly as the number of companies in the mobile app development space continues to grow. Our team is more motivated than ever to provide the best possible customer service and deliverables to our accomplished partners going into 2019!